Shanghai Spring Town Bio-Products Co., Ltd. is a health industry enterprise integrating product development, production, sales and service. It's product line covers medicines, cosmetics and household products. It transforms traditional Chinese medicine and modern scientific research results into productivity, and builds the world's first brand of green health products.
上海春芝堂生物制品有限公司是一家集产品研发、生产、销售、服务于一体的健康产业企业。它的产品线覆盖药品、护肤品和家居用品。它将传统中医药加现代化科研成果转化为生产力,打造世界绿色健康产品第一品牌。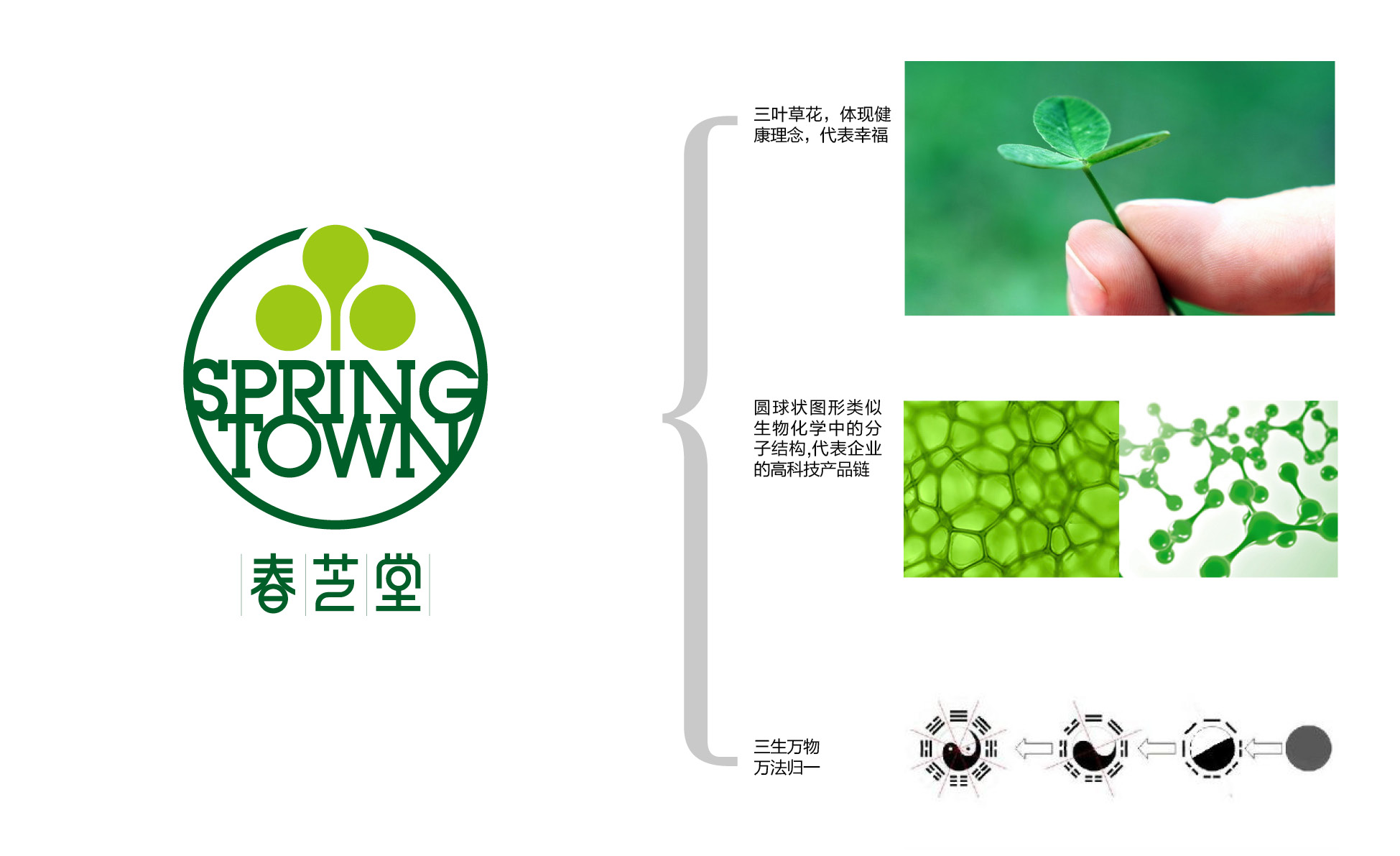 The logo takes the circular wireframe as the core shape, integrates the sun and the moon, green and life. The English name of the brand "spring town" is integrated into the circle, which is simple, fashionable, international and easy to remember. It reflects the brand style of healthy life, natural environment, and science and technology. The logo color is composed of green system, dark green represents fertile soil, and light green represents life.
Chinese abbreviation "春芝堂" is a part of the logo, which has also specificity and cognitiveness. The color of the character is dark green. The Chinese abbreviation standard font is a special design font in harmonization with Logo. The width, height and spacing of characters are all controlled by proportion.
标志以圆形线框为核心造型,融入日月天地,绿色、生命。品牌英文名称"Spring Town"融入到圆形当中,简约、时尚、具有国际感、便于记忆。体现健康生命、自然环保、清新科技感的品牌风格。标志色彩由绿色系组成,深绿代表沃土,嫩绿代表生命。
中文简称"春芝堂"是标志的一部分,与标志同样具有专属性和认知性。文字部分色彩为标志中深绿色。中文简称标准字为呼应标志风格专属设计字体,字宽、字高和字距都经过比例控制。